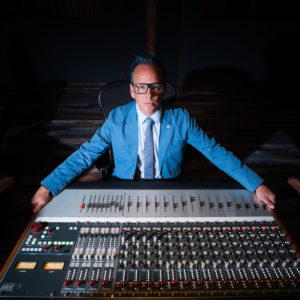 Pj Olsson
Pj Olsson is a critically acclaimed American recording artist and producer whose experience in the music industry started at a young age when his father, a renowned twelve-tone composer, encouraged him to begin working with synthesizers and music production in order to create a canvas for Pj's own songs. In 1987, Dr. Milton Olsson traveled overseas to study Bach and brought Pj along with him. Pj ended up signing his first recording contract at age 17 with Power Play Records in Germany. The world of music had suddenly opened up and Pj found himself inside a major recording studio, fascinated by the mixing console and multitrack tape machines.
Returning from Germany, Pj spent a year in Los Angeles before moving to Chicago where he met Rick Barnes, owner and head engineer of the world-class Rax Trax Studios. For the next three years, Rick mentored Pj in the art of engineering and record producing. It was during this same time that Rick's studio made the transition from analog to digital, giving Pj a one-of-a-kind education in both types of production.
Soon thereafter, Pj was signed by Dougie Thomson of Supertramp fame to Warner Chappell Music where he was introduced to mega-producer Keith Forsey who had previously worked with artists Billy Idol and Simple Minds and had written songs for the movies Flashdance, The Breakfast Club, Ghostbusters and Beverly Hills Cop. Pj suddenly found himself immersed in the LA music scene recording with some of the world's top session musicians including Greg Phillinganes, Jonathan Moffett and Tel Bergman among others. Pj's success continued to expand via his work with noted Producer/Engineer Carmen Rizzo as well as Wendy & Lisa of Prince's Revolution.
In 1993, Pj signed with EyeQ Records through Internationally renowned DJ Sven Vath and began working with some of Germany's top artists and engineers. The following year, A&R wizard Tim Divine signed Pj to Sony/Columbia Records as a recording artist and producer. Divine brought him back to Los Angeles where Pj used his record advances to build several high-end recording studios. Over the next few years, Pj released four critically acclaimed albums working with Divine and Columbia. This led to appearances on the Late Show with David Letterman; songs featured on Dawson's Creek; and performances with Kid Rock, Muse, Train, Rufus Wainwright, Iggy Pop, Bob Geldof, and Nelly Furtado.
While with CBS Records, Pj received a call from legendary Producer/Engineer/Composer Alan Parsons, asking him to work on a new album titled A Valid Path. Pj's engineering work earned him a Grammy Nomination along with a request to become the lead singer of the Alan Parson's Live Project, a position Pj has held to this very day. Pj also branched out into the area musical theatre, appearing as the lead in the international live version of Pink Floyd's The Wall. And in 2019, Pj received his first Grammy Award for his engineering work of the 35th Anniversary Edition of the Alan Parson's Project's classic Eye in the Sky.
Today, Pj runs Eagle Wind Studios, a world-class recording destination he co-founded, located 9000 feet above sea level in the Colorado Rockies. He has also created Rebel Remi Records, a new type of label which puts the artist first and emphasizes sales results for the artist. Pj also runs his annual Rock Camp in Michigan, which has been designed as a mentoring program for budding musicians under the age of 20.
Currently, Pj lives in Winter Park Colorado with his family and, when not in the studio or on the road, is an award-winning ski instructor.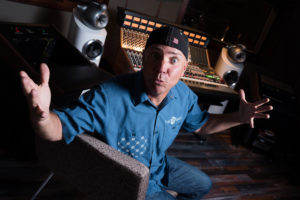 Anthony (Tone) Rosacci
Anthony (Tone) Rosacci was born in the '60s in Detroit, Michigan. His first memory of music is that of his dad playing Italian songs on the accordion. But it was actually a fascination with his dad's record collection featuring the sounds of CCR, Joe Cocker, Ray Charles and Herb Albert that reeled him in and led to his receiving a guitar at age 8 from his parents – after they refused to bring a drum set into the house!
Following a happy childhood with siblings Mick, Avie and Daniel, Rosacci served his country for 6 years in the US Navy as an Operations Specialist before beginning a highly successful career in Real Estate where he continues to work as an independent agent. But throughout his life, music has always ruled his soul. Enter Pj Olson…
Meeting through their teenage daughters Bella and Mia in 2016, Olsson helped Rosacci record his debut album at age 53 called "Tone and the Vibe," which featured all local Grand County Colorado musicians. With friendship and collaboration forming a trust, the two teamed up to create Eagle Wind Sound.
Tone is the house guitarist at Eagle Wind and handles a good share of the guitar work. Pop, Rock, Blues, and Soul are his specialties. Tone also has a crack team of studio musicians on speed dial, ready for every session. Rosacci brings a lifetime of entrepreneurial wisdom as well as first-rate musical skills to the table. He also happens to be the best tour guide in the area!
Combining his love of people, music and living each day to the fullest, Tone continues to make things happen.  "All of the people I looked up to were entrepreneurs… and an artist-owned studio for artists is the heart of Eagle Wind Sound."
James Steinbacher is experienced running live sound and producing/mixing recording projects.  He earned his B.A. in 1992 with an emphasis on lighting and sound.  Whether your recording is a synth-pop dream, a country ballad or a black metal nightmare, he is passionate about helping you fully realize your vision.